This is a Hot & Fast Method influenced by Ed Gash from Bunch of Swines but then further developed for an even Hotter & Faster Cook using Individual Short Ribs. This method still gives incredible results on the short ribs!
I use a Mocha Rub which was influenced by Marcus Bawdon from Country Wood Smoke found here:
http://countrywoodsmoke.com/how-to-make-bbq-dry-rub/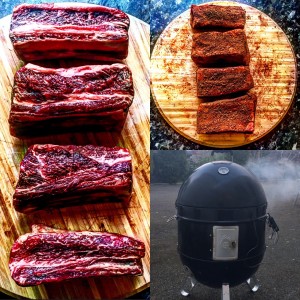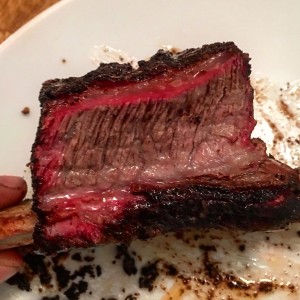 Set up the Smoker for an indirect cook @ 300F
I use Cherry & Apple Wood mix for this but you can choose what you like.
Rub the Short Ribs & get them on the Smoker @ 300F
After 60 minutes double wrap with strong foil & add tbls of strengthened beef stock
Ramp up the temperature to 400F & put the Beef Ribs back on for another 60 minutes.
At this point they should be at an Internal temp of between 203-205F & probe like butter!
If this is the case then they are ready, if not leave them on until this point.
You will not believe this recipe until you try it but I promise it wont disappoint!