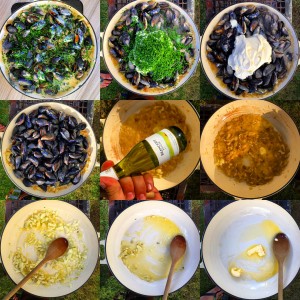 Moules Marinière with White Wine, Garlic, Chives & Crème Fraîche
Ingredients:
2KG Fresh Mussels
2 Garlic Cloves – finely chopped
2 Shallots – finely chopped
Chives – large bunch  – finely chopped
187ml White Wine (I use a nice Brancott Estate Sauvignon Blanc but use any other crisp, herbal white wine)
175g Butter
200-300ml Crème Fraîche
Pan with lid that should only be half full once mussles are added
Set up the Grill for 2 Zone cooking – Hot coals on 1 side & nothing on the other
Wash the mussels under plenty of cold, running water. Discard any open ones that won't close when lightly squeezed or knocked on the work top.
Pull out the tough, fibrous beards protruding from between the tightly closed shells and then knock off any barnacles with a knife. Give the mussels another quick rinse to remove any little pieces of shell.
Directly over the coals in a cast iron pan with lid add the butter & melt.
Add the Garlic & Onions – soften these & brown them. You may need to move the pan to the indirect side of the grill at this point to prevent them browning too quickly or burning. We want a nice almost caramelisation of these.
Bring back to the heat & add the White Wine, chuck in the mussels & put the lid on to steam.
Let them steam for 3-5 minutes giving the pan a good shake every now & again.
Add the Crème Fraîche & Chives put the lid on & give another shake.
Bring them off the heat & serve.
Spoon into warm bowls with a lush warm crusty bread roll.